Music Staff
(Director of Music)
E-mail:
Phone: 281-584-2041
Michael is honored to join the staff at Saint John Vianney Catholic Church after teaching 11 years in the public school system. His choirs consistently earned UIL Sweepstakes awards and were awarded with Grand Champion trophies at every choral competition from around the country. Under his tutelage, the choral department was known for their high standard of musical performance and was known to perform a vast array of choral repertoire including Broadway musical productions to major works with professional orchestras. His choirs were invited to sing for numerous local functions including such as the Hear the Future Concert with the Houston Chamber Choir and an invitational concert with University of Houston Chorale. The choral department has been honored to perform throughout the country and in Europe. Many of his students have earned numerous accolades in various music competitions and are studying music and performing professionally. Aside from his choral obligations, Michael maintains a vocal studio of high school students from around the Houston area and keeps active with presenting lectures for staff development for area school districts. Michael is in demand as a choral clinician, adjudicator and choreographer for the Houston area and around the state. Michael has had the privilege of performing with regional music theatre productions across the country and has sung throughout Europe. He was a member of the Christ Church Cathedral Choir and the Houston Chamber Choir and is currently singing with Vox and the Ken Davis Chorale. Michael Madrid has earned two degrees in Music from Texas Tech University. He has studied conducting from Dr. Kenneth Davis and Dr. Ronnie Oliver and vocal training from John Gillas, Karl Dent, and James Schrader. Michael's professional affiliations include TMEA, TCDA, ACDA, TMAA.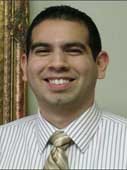 (Associate Director/Spanish Choir Director/Organist)
E-mail:
Office phone: 281-752-2465
David has been working with church choirs for a number of years, beginning at the Cathedral Church of the Sacred Heart in San Angelo, Texas where he served as cantor, organist and director of the Cathedral choirs. In 2005, he joined the staff of St. Francis de Sales Catholic Church and School, serving as their Director of Music and music teacher. In 2007, David was called to serve the Co-Cathedral of the Sacred Heart in downtown Houston as Associate Director of Music. Under his direction, the Co-Cathedral Spanish Choir was given the honor of performing with the Houston Grand Opera Chorus in the premiere a new opera. David has sung with a number of professional groups in Houston as well as performing with the European Festival Choir in Stuttgart, Germany.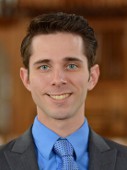 (Parish Organist and Associate Director)
E-mail:
Phone: 281-752-2466
Clayton Roberts (Associate Director and Principal Organist) received his Bachelor of Music Degree from Utah State University and Masters Degree from the University of Houston. Clayton began developing his music talent by studying piano at the age of 8 and organ at the age of 15. As a young emerging organist, Clayton has been featured in solo recitals throughout the United States and in Europe and has performed with orchestras in venues such as the Mormon Tabernacle on Temple Square and Abravanel Hall in Salt Lake City, Utah. Prior to undergraduate study, Clayton studied organ with Ethelyn Peterson (NCTM) and while working on his Masters Degree was under the tutelage of Dr. Robert Bates. Clayton Roberts has been honored to compete in and earn accolades at various competitions such as the Albert Schweitzer Organ Competition (2nd place) and the Miami International Organ Competition (3rd place). Aside from his organist duties he continues to develop his other musical interests in harpsichord, choral conducting, and composition. Before joining the staff at Saint John Vianney Catholic Church in May 2011, he was the organist at Zion Lutheran Church and held a similar position at Saint Michael's Catholic Church both in Houston, Texas.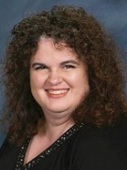 (Children's Choir Director)
E-mail:
Phone: 281-497-1500 ext. 169
Miss Knecht is pleased to be the children's choir Director this year after her participation as the Assistant Children's Choir Director. She was confirmed here at St. John Vianney in 2008, and has since been a member of the choir/cantor and has been highly involved in the development of the children's choir music program here at St. John Vianney. Outside of her church duties, she is currently a private music teacher of voice and piano at Memorial School of Music in Houston, and she currently has a studio roster of over 40 individual students. In addition, she has directed many additional programs with the school organizing recitals and preparing students for upcoming performances. Miss Knecht has directed various children's choirs throughout her years as a music professional at First Methodist Church in Shreveport, La., as well as music director for various music programs here in Houston.
Hailing from New Orleans, La., Miss Knecht attended Centenary College in Shreveport, La., and was a member of the prestigious Centenary College choir which performed in over eighteen countries and hundreds of concerts throughout the south. Miss Knecht also continued her studies in performance at the University of Houston. As a professional, Miss Knecht has sung in various concerts as a featured soloist with the Shreveport Symphony, as well as a guest soloist for various local organizations. She is a founding member of the Houston Cecilia choir which has just begun its second season here in Houston under the direction of Dr. Justin White.