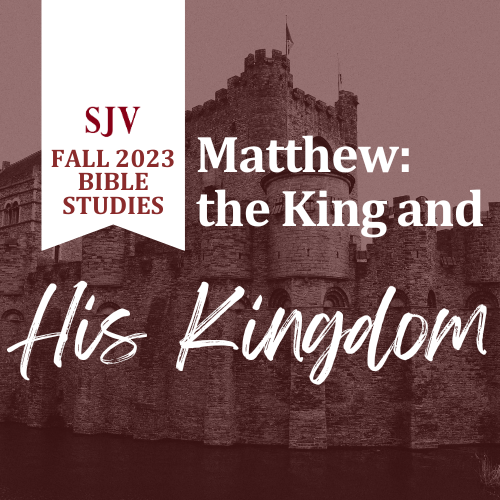 Fall 2023 Bible Study:
Matthew: The King and His Kingdom explores the life and mission of Jesus. Matthew demonstrates how the promises and prophecies of the Old Testament are fulfilled in Jesus, who inaugurates the Kingdom of God on earth. Participants learn how people came to realize that Jesus was the long-awaited Messiah who relived the life and struggles of Israel to become the faithful and victorious King. Set in the rich context of Jesus' Jewish culture, this study helps participants understand and appreciate it as part of our heritage. This Ascension Press 24-week study, on Wednesday evenings, begins Sept. 13, 6:30 pm – 8:30 pm, in Room C-25.
Workbooks are required for each study. Participants order the requisite workbook directly from ascensionpress.com and/or from stpaulcenter.com.  To register for the studies click on the red button below.
You may also register in the Adult Formation Office to be included on the class roster and receive additional relevant information.
Questions? Contact Yvonne Gill, Director of Adult Formation, 281.584.2022.