Dear Friends in Christ:
Cardinal DiNardo has stated that he would rather die for the faith than ask money for it! Most clergy feel much the same way. While money is not my favorite topic, it is an important part of my responsibility as a pastor. My job is not to "talk about money" but it is my responsibility to teach about Christian stewardship, discipleship, sacrificial giving, and generosity.
You may have noticed that we don't have many fundraisers here at St. John Vianney. This is intentional and deliberate. The reason is that our primary purpose as a parish is worshiping God, not fundraising. Yet, as we all know, it takes money to run things. Capital campaigns, special collections, and tithing are all mentioned in the Bible! In fact, there are more than 2,000 verses in the Bible about money and possessions! That is a lot. While money is not the most important thing about our faith, there is no escaping the connection between faith and money. A parish the size of St. John Vianney requires a lot of money to keep things running. Our annual budget is $7 Million. The primary source of our income is the sacrificial tithing and faithful stewardship of our parishioners. In addition to our own parish needs, we also financially support needs outside of our parish. We have special collections for the benefit of missions and other national and diocesan needs. The Diocesan Services Fund supports the pastoral ministries of the Archdiocese, which no single parish can do on its own. This year our mandated DSF goal is $480,000. Our parish bazaar supports our social services and charitable works. 100% of the net proceeds from the bazaar are directed to parish charities. The financial support provided for the operation of the parish comes from the financial stewardship of our parishioners and not from fundraising.
Our financial stewardship is our grateful response to the blessings the Lord has first bestowed upon us. Financial stewardship is an expression of faith and gratitude. That is why our offering to the Lord should be prayerful, meaningful, and proportionate to the blessings we have received from God. Part of being a faithful disciple is offering to the Lord our first fruits, not our leftovers. The Bible teaches that we should offer a tithe (10%) in thanksgiving for our blessings. A good rule of thumb is 5% to our parish, 1% to the larger church (DSF, second collections), and 4% to other worthwhile charities.
A tithe of 10% can seem like a lot and it can be a challenge. Those who practice Biblical tithing testify that while at first, it can be a struggle, soon it becomes a way of life and is experienced as a wonderful spiritual blessing. How can this be? When we have our priorities properly ordered and our values, actions, attitudes, and words in sync, we are able to long for what God wants us to have. When we tithe, giving isn't experienced as a burden, but as a privilege and a blessing. When we tithe, we learn that our stewardship is more than giving to a need. When we tithe, we discover our need to give. A good and easy way to begin tithing is by offering our first and last hour's wage each week as an offering and a thanksgiving to God for our week.
Here at St. John Vianney, the last few years have been challenging in many ways. The good news is that we are making progress. In 2022, 43% of our registered parishioners had no traceable donations to the parish. Some gave by cash, but there is no means for us to track these contributions. Non-traceable cash donations make up a very small portion of our income. Less than 8% of our Sunday collections are cash. Since Covid, the number of parishioners using electronic means of giving has increased. This is a safe, secure, and convenient way to financially support the parish and practice stewardship, especially as fewer and fewer of us carry cash or write checks. 11% of the parishioners gave an average of between $1-4 per week, 25% of the parishioners offered $5-24 per week, 10% gave $25-49 per week, 6% of the registered parishioners donated $50-99 per week and 5% of our households offered $100+ weekly. All these figures are an improvement over the last year couple of years but are down from before Covid.
Besides Warren Buffet, I am not aware of too many people who believe they should pay more taxes. But our tax returns do tell a story. The gross income amount tells what we have been blessed by God to receive –through our hard work, thrift, and ingenuity. It tells the story of how we used our God-given talents and abilities and the benefits that we have received from our labors. Another story is told under the section for charitable contributions and deductions. Our charitable giving tells the story of what we have done to further good works in our community during the last year. These numbers reveal what is important to us and how important they are. The question we must face is: 'Do these numbers and the story they tell accurately reflect our hearts, commitments, and beliefs?' Do our actions match our words?
Give thanks to the Lord!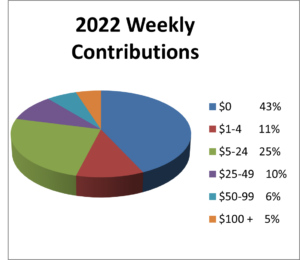 In Pace Christi:
Fr. Troy