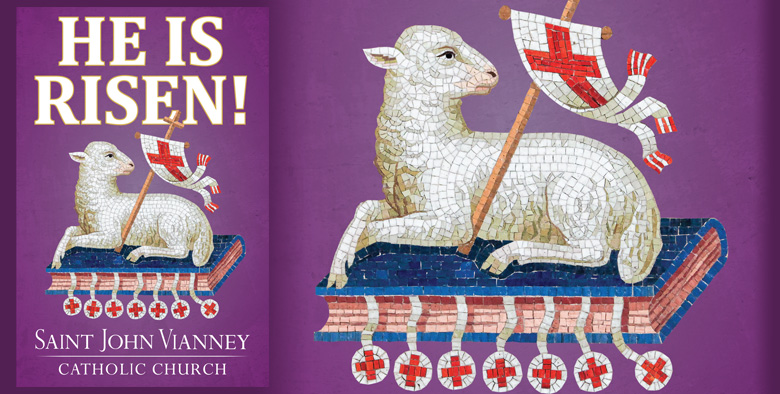 Get your Easter Yard Signs!
He is Risen! Alleluia!
Place these beautiful Easter yard signs on your front lawn to celebrate the most joyous season! More signs available this weekend.
---
Fr. Richard Hinkley comments on this year's theme: 
The image of a lamb recumbent on a book with seven wax seals is a Catholic symbol that carries with it a wealth of meaning. Christ is the Lamb of God who takes away the sin of the world (John 1:29), our Paschal Lamb who was sacrificed for us (1 Corinthians 5:7). This Lamb appears in Chapter 5 of the Book of Revelation as one who appeared to have been slain, but lives (Revelation 5:6). The book or scroll also comes from Chapter 5 and represents the mystery of God's plan of salvation for all time and history. The seven wax seals on the book represent the fact that this plan is sealed and hidden from all. The Lamb alone by his death and return to life is worthy to break open the seven seals and to open the scroll (Rev 5:9-12). Arranged with the standard of victory, the Cross, this composite image is a traditional Catholic symbol of our Lord's glorious Resurrection and a beautiful marker of Eastertide.