Blood Drive – Sunday Appointments
Sunday, Dec 05th 8:00 am - 2:00 pm
@ St. John Vianney Activity Center
---
Continue the Commitment. Commit for Life!
*COVID-19 Antibody Testing for all successful donors.
*This test is authorized by the FDA only for detecting the presence of antibodies against SARS-Co V-2 and is not intended for diagnosis of COVID-19.
Learn more on the COVID-19 Antibody Test.
Appointments Only!
Saturday, December 4
9:30 am – 3:30 pm
Click here for a Saturday appointment
Sunday, December 5
8:00 am – 2:00 pm
Click here for a Sunday appointment
Both days in the Activity Center
All donors receive a voucher for a FREE Medium Pizza from Marco's Pizza.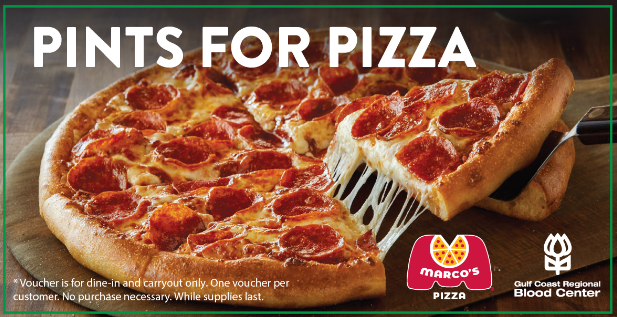 ---
A message from Gulf Coast Regional Blood Center:
We have a very safe enhanced blood drive process in place.  We take donor safety very seriously at all times and we are an industry designed around sanitizing and protecting the donors and the blood supply from the spread of disease. We work closely with the FDA and CDC to adhere to all guidelines. We have authorization from FEMA and a recommendation from the US Surgeon General that blood drives must continue as an essential service. It is so important, especially now, to ensure our hospitals have a strong blood supply for patients.
Measures we are taking to step up safety at this time include:
Every staff member receives a health screen and temp check each morning before leaving our offices and is required to report daily on health conditions. Every donor receives a health check on arrival, as well.
As always, staff are wearing gloves and changing them between every donor. Now they are also wearing masks, and we are providing disposable masks to donors for their use as needed. We encourage donors to bring their masks if they have them to prevent unnecessarily over-utilizing supplies.
Every surface is thoroughly sanitized between every donor.  Every tabletop, every chair.
We are utilizing one-time use items instead of reusable/washable items. Every squeeze ball is one-time use. Blankets are no longer provided for donors who are cold/require additional privacy in a skirt. We have disposable drapes in their place instead.
Hand sanitizer for donors will be placed at the check in table and refreshments table. All refreshments are pre-packaged chips, cookies, and snacks, as always.
Every staff member has personal hand sanitizer for constant use after every interaction.
Every bed, screening booth, and chair is spaced at least 6' apart.  Social distancing floor markers are in use for every entrance area to remind donors to stand 6' apart.
The virus is not blood-borne, so it cannot be spread through transfusion. Therefore, constant sanitizing of all surfaces and social distancing makes blood donation safe.  We have a medical doctor on staff implementing all policies and procedures to protect donors and safeguard the blood supply.
Blood donations are an essential service.  Our staff are well-trained emergency response teams, and blood drives, blood donors, and volunteers are exempt from all stay-at-home recommendations.
---
Questions? Contact Richard Fairly or call the Parish Life Office at 281.497.1555.
Hosted by Parish Life Ministry, Knights of Columbus Memorial Council 6527 and Social Ministries.
---
Download event iCal
Add event to Google Calendar