"He opened their minds to understand the Scriptures" ~Lk 24:45.
Pope Francis has issued an apostolic letter entitled Aperuit Illis, instituting the "Sunday of the Word of God" for all dioceses and churches throughout the world. He writes:
"I hereby declare that the Third Sunday in Ordinary Time is to be devoted to the celebration, study and dissemination of the word of God."
The first "Sunday of the Word of God" will be observed on January 26, 2020.
Do you own a bible? Order yours today!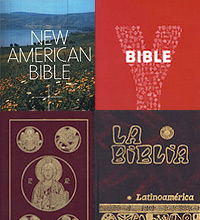 RSV, 2nd Edition, hardcover; Ignatius Press, $24.00
Latinoamerica, Edicion Pastoral, hardcover *Spanish; $13.00
New American Bible, St. Joseph Edition, Catholic Book Publishing; Paperback, $10.00
RSV, YOUCAT Bible, Ignatius Press, Softcover; $18.00
Download the Bible Order Form and submit with Payment to the Adult Formation Office. Order online by clicking the red box below: