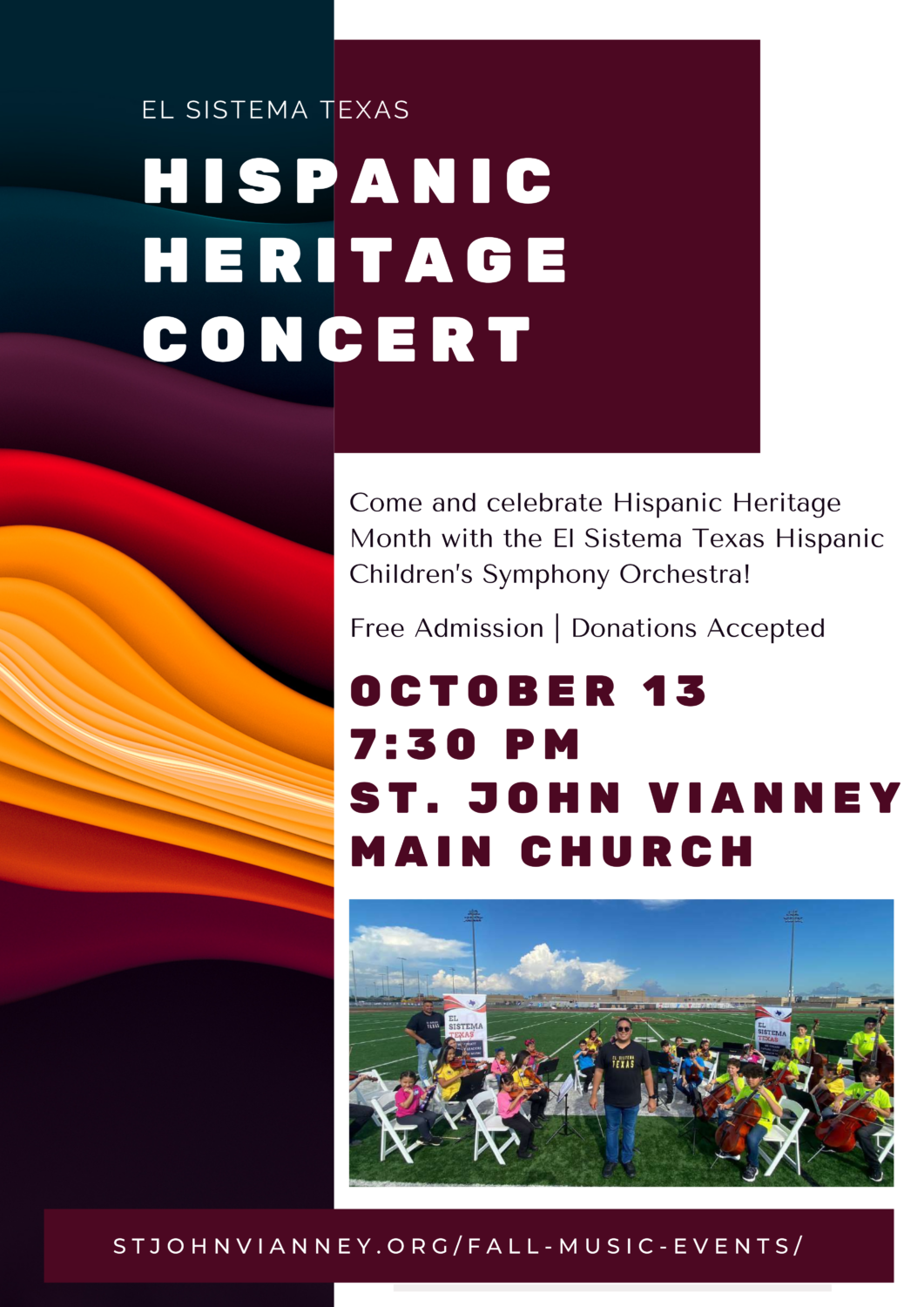 October 13 | 7:00 PM | SJV Main Church
Come and celebrate Hispanic Heritage Month with the El Sistema Texas Hispanic Children's Symphony Orchestra! Admission is FREE and donations are accepted.
___________________________________________________________________
This event is part of the Hispanic Heritage Month, and it promises to be an evening filled with talent and passion. Beyond just a celebration, it's a call to action. Your support is crucial in raising funds to ensure the continuity of this beautiful project that changes lives.
While entrance to the concert is entirely FREE, your generosity can be the spark that ensures a bright future for many talented youngsters. We invite you to make a donation by clicking on the following link: (Click here to donate)
Your contribution means more than you can imagine, and we deeply appreciate your support and generosity in advance. Don't miss this opportunity to be part of something truly special. We look forward to seeing you there! With warm regards and gratitude,
Background to EL SISTEMA TEXAS
Established on July 17, 2022, El Sistema Texas is a beacon of hope and transformation. It is a musical education program inspired by the globally renowned Venezuela El Sistema model. Not only does it hone the musical talents of the younger generation, but it also instills values, discipline, and community spirit.
At the heart of this initiative is the principle of "learning by doing," spotlighting the profound societal change achievable through collective music-making. With a primary focus on early ages, from 5 to 20, the program lays significant emphasis on the elementary school age group, ensuring foundational musical exposure.
El Sistema Texas is a proud member of El Sistema USA, an association that has granted the organization global recognition. Their connection paved the way for an invitation to the World Congress of El Sistema in Venezuela, allowing them to represent Texas amongst 140 global inspirations.
Comprising five distinctive coral and orchestral programs, El Sistema Texas has already impacted 150 children, mainly from the Hispanic community. This endeavor is steered by a passionate team of educators, supported by over 20 enthusiastic volunteers.
The founders' devotion hasn't gone unnoticed. The city of Houston has named July 17th "El Sistema Texas Day". Furthermore, a founder was honored with the esteemed "Yellow Rose of Texas" award for her outstanding contribution to the community through music. The organization also received the "Community Project" accolade from "Somos Houston Magazine".
With a forward-looking vision, El Sistema Texas is set on welcoming children from diverse backgrounds, strengthening its belief in music as a universal language that transcends all barriers.
More information about El Sistema Texas:
ABOUT US : Description of our organization
Presentation Video: We are El Sistema Texas
Youtube:  El Sistema Texas – Youtube Channel
El Sistema Texas: Website