Habitat for Humanity
Making a Home for Others!
After a six-year hiatus, SJV parishioners were once again able to participate in Habitat for Humanity Build Days this past spring.  Although SJV has continually supported Habitat for Humanity Northwest Harris County's efforts, in 2022 we were able to resume sending teams of parishioners to work on a home for a needy family.
Partner organizations such as SJV donate funds to pay for the materials needed to build houses on land purchased by Habitat and provide volunteers and the needed labor to build the homes.
The SJV Habitat Team, formed by SJV parishioners, committed to six build days, and provided over 450 hours of work to help build three different houses.
Because not everyone is able to help with construction, other groups within SJV signed up to provide lunch for our SJV Habitat Team and HFH's 'Red Hats.' Among those groups were Joseph's Coat Volunteers, the Women's Club and Middle School Families.  We thank everyone for their generosity and time. This is just another way SJV parishioners live their faith, change lives and make a difference!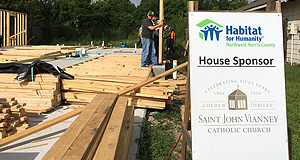 View images from our last build.
Volunteer with SJV's Habitat Team and help build a home for a family in need!
If you didn't get a chance to help this year, make plans to join us in the spring of 2023!
Each volunteer is encouraged to complete and submit his/her own individual sign-up form and waivers: one for SJV and one for HFHNWHC. For more information, please contact the SJV Habitat Team Coordinator.  Please note that volunteers must be 16 years of age or older and that a parent/legal guardian must sign a waiver for minors as well.
Available Build Dates:
Please check back with us early in 2023 once we have a tentative schedule of activities. As with any construction project and due to the unpredictable weather conditions in Houston, the activity scheduled for each build date is subject to change. We will do our best to keep you informed of any changes to the Build Schedule.
Everyone is welcome to participate! If construction work isn't your cup of tea, we have other ways in which you and your family can get involved!
We invite you to sign up to pray for the volunteers and for the family whose home they're building.  This can be done in the Adoration Chapel or from the convenience of your home during the time that our volunteers are working. To sign up, email the Social Services office and provide us the time frame in which you will be available to spend one hour in the Presence of Our Lord Jesus in prayer.
Habitat for Humanity Northwest Harris County, with thousands of sponsors and volunteers, has built over 940 homes for hard-working, low-income Houstonians. Habitat Partner Families contribute 300 hours of "sweat equity" and complete training on home ownership to purchase homes with no-interest mortgages.
Habitat's Vision
A world where everyone has a decent place to live.
Habitat's Mission Statement
Habitat for Humanity Northwest Harris County works by faith to change lives and empower families by building homes in partnership with God and people from all walks of life.
Habitat for Humanity was founded on the conviction that every family should have the opportunity to own a basic, decent home in which to live in dignity and safety. Habitat partners with community organizations to create affordable housing and help develop responsible homeowners and successful neighborhoods.
For detailed information about Habitat for Humanity or about our project: 
"In all things I have shown you that by working hard in this way we must help the weak and remember the words of the Lord Jesus, how he himself said, 'It is more blessed to give than to receive.'" (Acts 20:35)