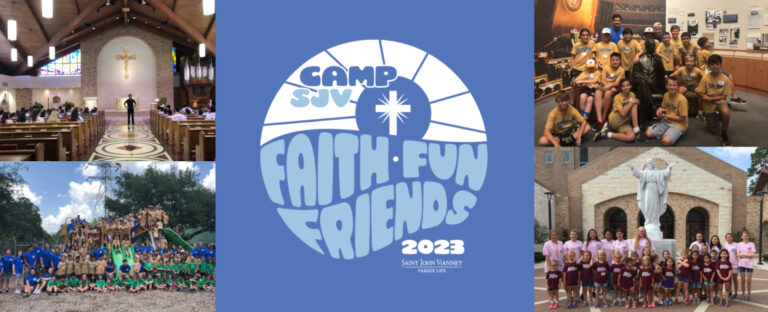 Thank you for your interest in Camp SJV. Unfortunately, this year's camp is full. Please email us in January next year for information about Camp SJV 2024.
Camp SJV 2023 – June 5 – July 28
We are a Catholic summer camp
with a focus on promoting Faith, Fun, & Friends for Ages 4-12. Activities include: daily bible stories & discussion, recreational games (both indoor & outdoor), craft projects, music, special guest speakers/entertainers, skit performances, field trips, and more.
The always popular Camper Fun Day & Pool Days (optional for 7-12 yr. olds only) will be back this year. Field Trips are for our 7-12 campers and is optional. This year we are back with 11 field trips!
Since we are a Catholic camp, we pray the Rosary, Stations of the Cross, and hold monthly Prayer Services. Returning this year, our 10-12 yr campers will have the opportunity to attend the Friday 9:00 am daily Mass. In addition, this summer our campers will be learning about the Saints that we have in our Church and Chapel.
Our camp offers daily options. During the online registration, you pick and choose which days you need in advance. Online Registration begins in mid-March.
For 2023 pricing, dates, times and information click on the links below: