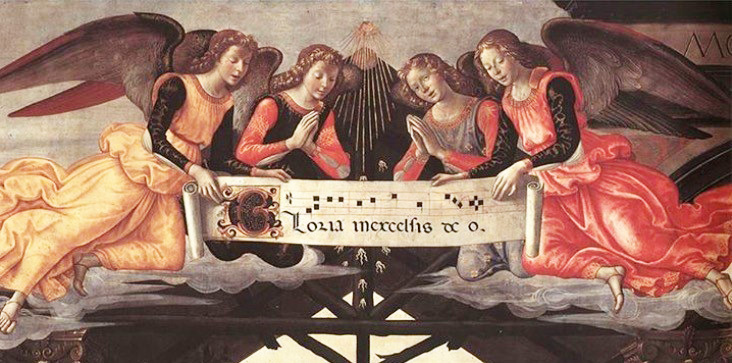 Registration for Fall 2023 will open in August.
We are thrilled to introduce our new curriculum for the youth choir ministry. The Royal School of Church Music (RSCM) is an international acclaimed program that guides singers and choirs to develop vocal skills, musical knowledge and repertoire. Students will be informally assessed by the directors and a badge/ribbon and medal is awarded once the singer has reached the targets and finished the workbook for each level.
Following the Voice for Life curriculum from the Royal School of Church Music, our choristers will learn what it means to participate in a church choir. They will explore singing together, alongside honing valuable skills in notation, rhythm, pitch and diction. This choir sings on the first Sunday of each month at the 5:30PM mass, as well as Christmas and Easter mornings. They will also have the opportunity to participate in the annual youth presentation of the Nativity Play and the Lenten Stations of the Cross.
Cantate Singers will be encouraged to participate in the RSCM Winterfest and summer courses to meet fellow program members from around the city and country. Our advanced students will have the opportunity to be a part of the Jr. Cantor program. A small participation fee is required to cover materials.
*NEW ENSEMBLE REHEARSAL Tuesday, 4:45pm-5:45pm. Parents can choose either Sunday 2:00pm rehearsal or Tuesday 4:45pm-5:45pm. Sing at Mass once a month | Rehearsals on Sunday 2:00 pm | Music Lecture Hall
Director: Tom Marvil, 281.752.2465
The group has limited rehearsal time and leads the music at Mass once a month. The group follows the school calendar therefore no conflicts with school holidays and testing dates.
Sing Mass once a month | Rehearsals twice a month on Sunday 11:00 am | Music Lecture Hall
Director: Pablo Martinez, 281.497.1500.
---
Upcoming Music Events
No Events