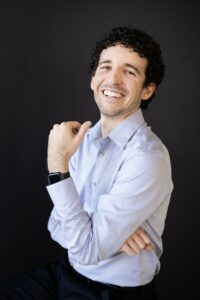 Dr. Pablo Martínez, Piano
Described as "sensitive and thoughtful" (Volksstimme), Spanish pianist, Pablo Martínez, has performed in venues such as Carnegie Hall, the National Auditorium of Madrid, Kennedy Center for the Performing Arts in Washington, DC, Mozarteum Wiener Saal in Salzburg, Fundación Juan March of Madrid, University of Sevilla, Auditorio Manuel de Falla of Granada, Fundación Botín of Santander, Palau de la Música of Valencia, or Palau de les Arts of Valencia.
Dr. Martínez is an international piano competition laureate, including the Neue Sterne International Competition in Hanover, Premios Loewe-Hazen in Madrid, Campillos International Competition in Málaga, and Concurso Internacional de Piano Antón García Abril in Teruel. He has been invited to perform in several music festivals in Spain, such as Clásicos en Ruta AIE, Festival del Mediterrani, Festival Internacional de Música y Danza de Granada, Juventudes Musicales de España, and Fòrum Santa Cristina d'Aro.
Dr. Martínez is deeply involved in the musical scene of the city of Houston. As a member of the Young Artist Program at DaCamera, one of the leading chamber music and jazz organizations in the national and international landscape, he has performed in some of the main venues for the arts in Houston such as the the Wortham Theater Center, the Menil Collection, and the Museum of Fine Arts of Houston. Currently, Dr. Martínez is Associate Director of Music and Assistant Organist at Saint John Vianney Catholic Church.
Dr. Martínez holds a Doctor of Musical Arts degree in Piano performance from the University of Houston, Moores School of Music. Besides his active concert career, he executes intense pedagogical work in the city of Houston and abroad.
 PABLO MARTÍNEZ, PIANO RECITAL
Recital Program
Moment Musicaux, Op. 16 (8')  …  Sergei Rachmaninov (1873-1943)
Andantino
Two Nocturnes (12') … Frederic Chopin (1810-1849)
Op. 62, no. 2
Op. 27, no. 1
Fantasien, Op. 116 (25') … Johannes Brahms (1833-1897)
                Capriccio. Presto energico 
                Intermezzo. Andante 
                Capriccio. Allegro passionato
                Intermezzo. Adagio
                Intermezzo. Andante con grazia ed intimissimo sentimento
                Intermezzo. Andantino teneramente
                Capriccio. Allegro agitato
INTERMISSION
Tonadas, (15') …  Joaquín Nin-Culmell (1908-2004)
Vol. I
Saratarra naizela (Vascongadas)
Jota castellana (Palencia)
Canción de labrador (Baleares)
Arada de Salamanca
Diferencia sobre la arada de Salamanca
Charrada de Salamanca
Baile de Burgos
Vaqueirada (Asturias)
Jota alicantina
Muiñeira (Galicia)
Cantar de pandeiro (Galicia)
Alalá (Galicia)
Fantasía Baetica (13') … Manuel de Falla (1876-1946)