The Campaign Team would like to thank all the families who have pledged to make this campaign a success. As of January 17, 2020, we are at 81% of our goal.

May God Bless Your Stewardship!
All parishes in the Archdiocese of Galveston-Houston are joining together for the IGNITE Campaign. The campaign seeks to raise $150 million over the next 4 years to prepare our faith family for the future. At its heart, this campaign is about supporting our future by focusing on our parishes, our future priests, Catholic Education and Faith Formation as well as Rebuilding in Light of Harvey and ensuring a Future Disaster Fund. The $150 million will be used for the following purposes: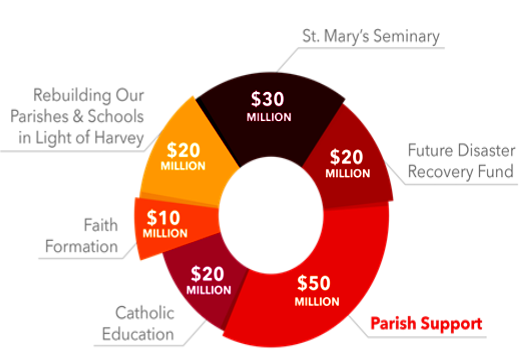 St John Vianney goal: $4.3 Million
Pledge Total: 3,534,088 Million (As of January 17, 2020)
$2.9 Million for Archdiocese
$1.4 Million for SJV
The funds that we collect will be directed to re-furbishing the Activity Center and Youth Lounge, re-modeling the Library Den and the Music Lecture Hall and re-surfacing the south parking lot.
It is not too late, your help is needed for us to reach our goal. To make a pledge or for more information please contact Belinda LeBouef at 281.752.2400.