Welcome Deacon Jeff Willard!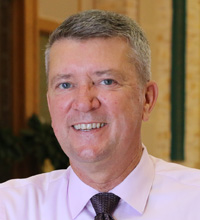 We welcome a new deacon assigned to our parish, Deacon Jeff Willard, Ph.D., LPC.  While Jeff's assignment is new, he is not.  Jeff has been on staff since last August when he became the Director of Pastoral Care and Spiritual Life for our parish.  Until now, Jeff has been assigned to Christ the Redeemer Parish where he was also the Director of Liturgy.  A native of Oklahoma, he served as Pastoral Administrator at St. Joseph Parish in Norman, OK.  Jeff is a Licensed Professional Counselor with a background in Marriage and Family Therapy.  A convert to the Catholic Faith, he was ordained to the diaconate for the Archdiocese of Oklahoma City in 1999.  Jeff is married to his wife of 34 years, Mary Lynn, and they love living on the Gulf Coast.
Welcome Jeff and Mary Lynn!